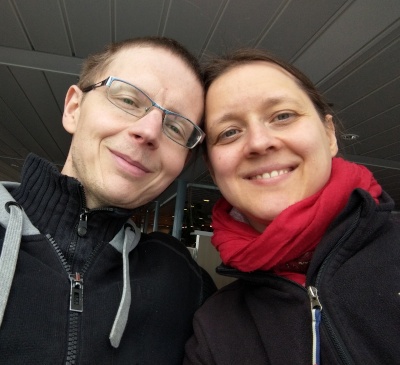 Hello, we are Britt and Sven – world travellers who have finally made their dream come true.
On this website we want to share our adventures with you and show you how we experienced nature, the country and its people. Furthermore, we report on our experiences on camping and accommodation sites, as well as other challenges of international camping life.
Life before
Britt
date of birth
August 1985
birthplace
Dresden, GERMANY
skilled profession
graduate engineer in
surveying (Dipl.-Ing.)
interests
travel, photorgaphy,
knitting & crocheting, reading,
riding & horses
during the journey
responsible for
website, trip planning,
photography, food & drink
After I finished my thesis, I moved back from Leipzig to Dresden to my sister in mid-2011. Now the way was finally clear for a year's work and travel in Australia. Because I had always wanted to gain experience abroad.
The first attempt, straight after A-levels, had unfortunately not worked out. So I decided to travel around Australia for a year after graduation and get to know the country and its people.
In September 2011, I left Germany behind and started my working holiday life. I loved it. Working, getting in touch with the locals, getting to know real life in Australia and exploring the tourist sides of the country at the same time.
I really wanted to add a second year in Australia. But I had to leave the country and apply for another visa. So I flew back to Germany. Here, I resumed my everyday life. Working, meeting family and friends, including Sven, and getting on better and better with him 🙂 Because we had already got to know each other during the time with my sister. My ambitions for a second year in Australia were thus forgotten.
Sven
date of birth
May 1986
birthplace
Radebeul, GERMANY
skilled profession
automotive mechatronics
(Meister), certified automotive
service consultant
interests
travel, football, rugby,
reading (Stephan King)
during the journey
responsible for
vehicle technology, navigation,
website, photography
I had just finished my apprenticeship in 2011 and was starting my professional life when Britt came into my life for the first time. But as soon as we got to know each other a little, she was gone again. So there was no reason to leave my hometown of Moritzburg and I continued with my hobbies of the time, such as football and rebuilding my Trabant 601.
Professionally, I started further training to become a motor vehicle master craftsman (Meister) and spent my summer holidays on the German Baltic Sea coast. Until then, the big wide world was not an issue. But that was to change bit by bit when Britt returned and we spent a lot of time together.
Life together
Our journey through life together began in January 2013. Less than 5 months later, we moved in together and led a very "normal" life. Holiday destinations during this time included countries like Sweden, Spain and Greece.
In 2017, we spent 2 weeks on holiday in Scotland. It was our first road trip together. We travelled from place to place and stayed in bed and breakfast accommodation. This was a great way to experience the country authentically, because the locals always had an interesting tip ready.
The decision
The common desire to travel was awakened! We wanted more of it. To see the world and, above all, to discover and enjoy nature.
The only question was how we could realise it. In any case, it was clear that we wanted to save money first. As a result, we stopped going out almost completely and also did very little with friends and family. A big " SORRY " for that. We really made ourselves scarce and ask you to forgive us. Since then, we have always kept track of our finances with the help of a budget book. This has allowed us to better focus on planning our world trip.
In the meantime, the opportunity suddenly arose to buy a caravan at a good price. So we thought about whether such a life was an option for us. After weighing up the pros and cons, it was clear to us that we would start our world trip as a camper. We had never been on the road in a caravan before, but we liked the idea of returning to a simple and natural lifestyle.
Our caravan
Unfortunately, this offer fell through shortly afterwards. But our conviction remained and so we looked for another caravan. From today's perspective, however, it was the best thing that could have happened to us, because we didn't have to renovate our new little home from scratch in painstaking manual work, but we could actually "move in" straight away. You can read all about the purchase and the transfer in March 2019 as well as minor repairs to our Eriba Touring Pan here.
From then on, all our future holiday plans were focused on camping. We wanted to test whether we had made the right decision and at the same time gather our first experiences. And we can say that we love it! This freedom. The fresh air and the life in nature. We don't need luxury any more. Our little kingdom is enough for us.
The planning
After deciding to travel around the world as a camper, the decision was made to set off in April 2021. And why April? Yes, good question. I have no idea. 😉
Because of the pandemic, everything had been delayed a little. But in May 2022 we finally got going.
Now we just had to clarify the last details. Among other things, should it be mostly summery warm or would we also be able to cope with cooler temperatures? Meaning, where do we start and how should we continue?
Since we want to be on the road with our own caravan, it was clear to us pretty quickly that we would travel through Europe first of all. To start with, we decided on the north, because it's no longer so cold there and the snow has already melted. After that, we will travel down the North Sea and Atlantic coasts towards Portugal. We'll see how far we get.
In September/October 2022, we will travel to Australia. We have decided to go to the east. We want to spend three months there exploring the country in a rented campervan. Unfortunately, it is too expensive to ship our own caravan and it is very difficult to plan due to a possible quarantine of the transported travel vehicle. We want to get the most out of our trip and not sit on hot coals wondering when we can finally start.
After that, the journey will continue in New Zealand. Another 3 months are planned there. Canada, the USA and Japan are also on our wish list. But the plans for these are not quite as concrete yet.
However, we all know that many plans are mostly just all smoke and mirrors. So let us surprise you (as we did to some of our own) with how our journey will really go.
Now we hope you enjoy browsing through our site.
Your globetrotters
Translated with the help of www.DeepL.com/Translator (free version)