After the possibility of buying a Qek Junior disappeared, we looked for other caravans on the relevant Internet portals. However, the market for smaller caravans with a gross vehicle weight of up to 750 kg is rather limited. We had excluded a larger one for our trip right from the start, whereby technical reasons regarding the Mégane played a subordinate role. It was more a matter of practical thoughts and the fact that we hardly want to do anything in it anyway. Apart from sleeping, cooking and eating, of course. The last only when the weather doesn't play along, so that we can enjoy the fresh air. So you could say we really only want to pull the bed and kitchen behind us. Besides, it's easier to move a smaller trailer and, if necessary, it can also be pushed by just two people.
We watched the offers for more than half a year and quickly found a suitable model that fully met our expectations. It was to be an Eriba Touring Pan. We liked this trailer, which was designed as a touring caravan, also because of its aerodynamic shape. And thanks to its gas system, which supplies not only the cooker but also the refrigerator and heating, you can also spend a few days somewhere on your own if necessary.

At the end of March 2019, we were finally lucky and were able to look at a caravan that was suitable in both price and condition. We went to Bad Nauheim, about 430 km from Dresden, to a nice elderly couple. We were able to look at everything at our own speed and the owner also showed us that all the fittings and attachments were in working order. After a short consultation we decided to buy the caravan. But you don't voluntarily accept such a journey if you don't already have a positive attitude towards it.
A short price negotiation followed and he was ours. Now it was time to head back to Dresden, which we reached at around 10:30 pm. So ended an exhausting but thoroughly positive day.
Preparations and minor repairs
year of manufacture
1993
lxwxh (in cm)
455x201x220
permissible gross weight (in kg)
750
net weight (in kg)
565
chassis
Trailing arm with shock absorber
bed size (in cm)
188×190
features
gas heating, 60l fridge,
2-burner cooker,
electr. water surply,
awning
Now that you've heard how we got to our new home, we'd like to tell you a little about the preparations and the minor repairs we had to make to the caravan.
First of all, it was necessary to create the most essential requirements for travelling with a caravan. The installation of a towbar on the Mégane. Fortunately, we have enough experience and craftsmanship for this task. A spring Sunday in mid-March 2019 with a few hours to spare and it was done.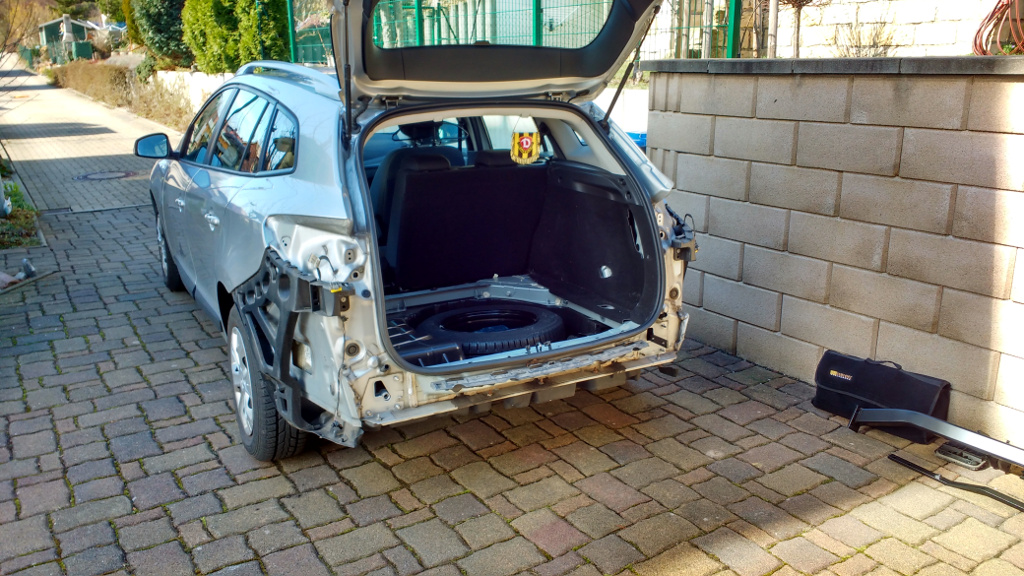 Despite the current general inspection, we also had to carry out one or two repairs on the Pan. First of all, we replaced the seals of the two opening windows. The old rubber profiles were still original from the factory and correspondingly hard as a rock. Fortunately, one of the previous owners had already done the work on the two fixed windows, so only a small spot had to be sealed. Then came the replacement of the rear lights, as they no longer functioned reliably due to leaks and broken internal components.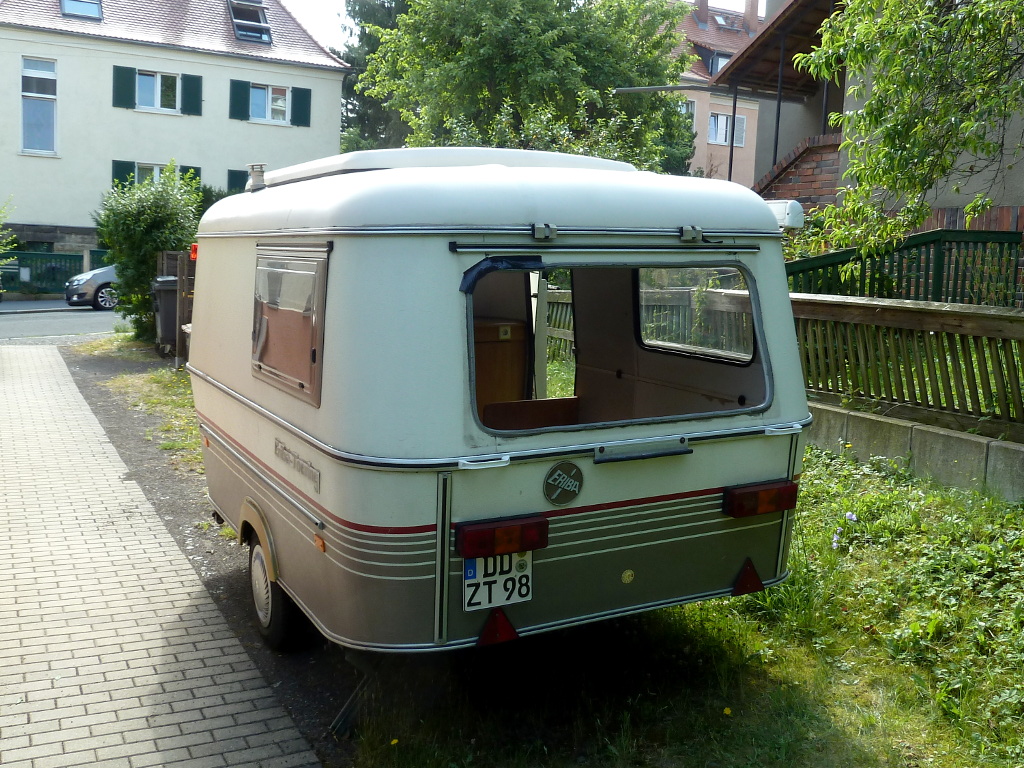 We simply converted the actual wardrobe into a storage cupboard with the help of another wooden floor, because somehow there wasn't really much space for such things near the kitchen. For our clothes, the storage compartments above the sitting area or the bed are all we need. Furthermore, we changed the support wheel and the water supply, among other things. We cleaned the fabric of the elevating roof, as well as the polster and replaced some rusty hinges of the doors on the storage compartments.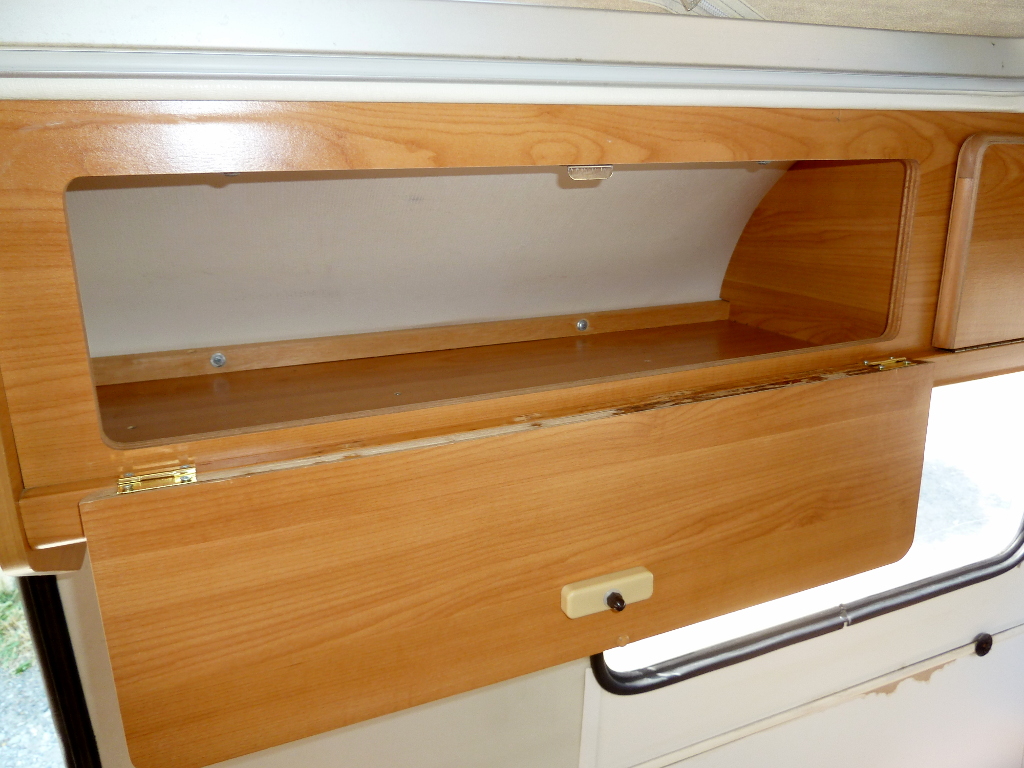 So the first short holiday with our future home could be started. We drove for 3 nights to a beautifully situated nature campsite near Dessau. After this trip, we made our first list of small improvements and things we wanted to change or get so that life in the Pan would be even more pleasant for us. We implemented almost all of these by the next holiday next year. However, during this trip we also had various ideas about where we should still make adjustments before we set off on our big trip around the world.